Choc-Beetroot Brownies // Vegan + Oil Free
09 / 04 / 2016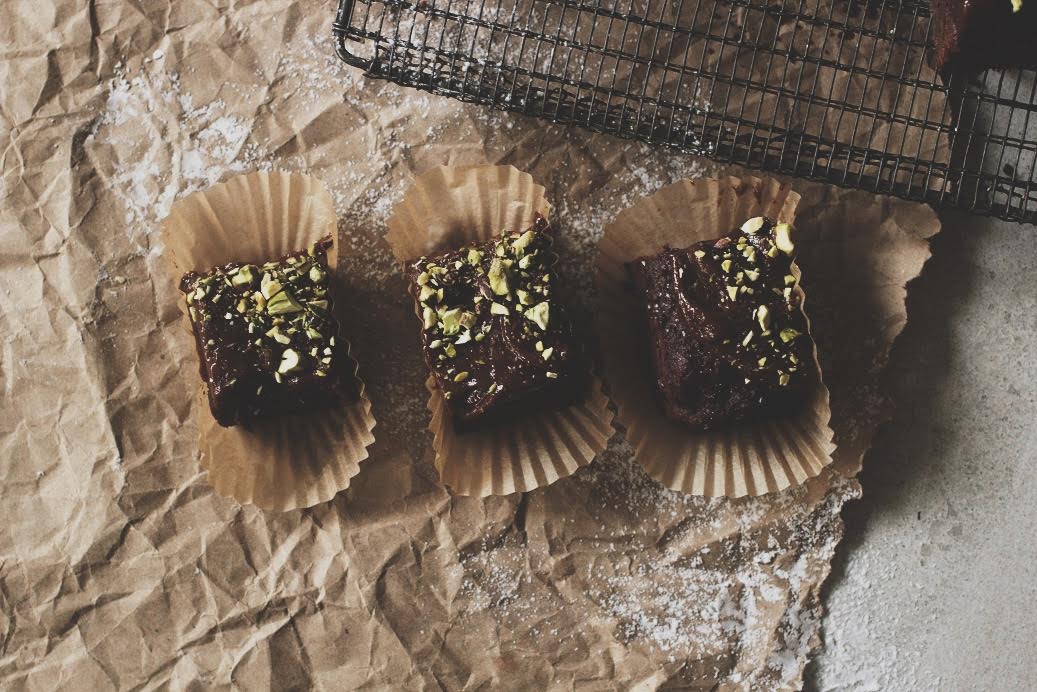 Well this is an achievement. I tasted these at a groovy vegan cafe a few weeks back and I have made two attempts to re-create their glory. My-my was it satisfying when I finally got there. Not only are these full of fruit and vegetables (beetroot, dates and avocado), but they are oil free AND ridiculously fudgey, so I'm celebrating over here!! I have never really tried recreating something I've had out before because I guess I usually believe I'll fall short of the mark. Yet this has taught me that with some logical choosing of ingredients and looking at a few existing recipes for reference, you can totally do it. These are not too sweet but absolutely 100% satisfying of that chocolate sweet-spot craving. I hope you give them a try.
Makes a 7 X 7 tin (but an equivalent shape can be used - just adjust cooking time)
Ingredients
2 beetroots, cooked and peeled
10 medjool dates, pitted
2 tbsp maple syrup
2 tbsp almond butter
1/2 cup plant mylk
1 cup vegan dark chocolate chips, melted
2 tbsp cacao powder
1/2 cup almond meal
1/2 tsp baking soda
2/3 cup SR flour
8 medjool dates
2 tbsp maple syrup
2 tbsp cacao powder
1/4 ripe avocado
5 tbsp plant mylk
small handful of pistachios, ruffly chopped
Method
Preheat oven to 180C, you can melt the chocolate in a heat proof bowl as it warms up.
In a food processor, combine the first six ingredients. Blitz until smooth.
In a large bowl, sift the next four ingredients. Add the chocolatey beetroot mixture and fold until smooth. The chocolate will begin to harden the mixture so work quickly and add an extra splash of mylk if need be.
Tip the mixture into a greased and lined square pan (7-8 inches), and smooth over the top with a knife. Bake in the oven for 20-25 minutes. Leave to cool.
Meanwhile make your icing, by blending the remaining ingredients (minus the pistachios) until smooth.
Once the cake is cooled or at room temperature, ice it and sprinkle with the chopped pistachios. Store in a cool dry place, or in the fridge.
---