Chickpea & Quinoa Pizza Burgers // Vegan + GF + RSF + Oil Free Option
13 / 01 / 2018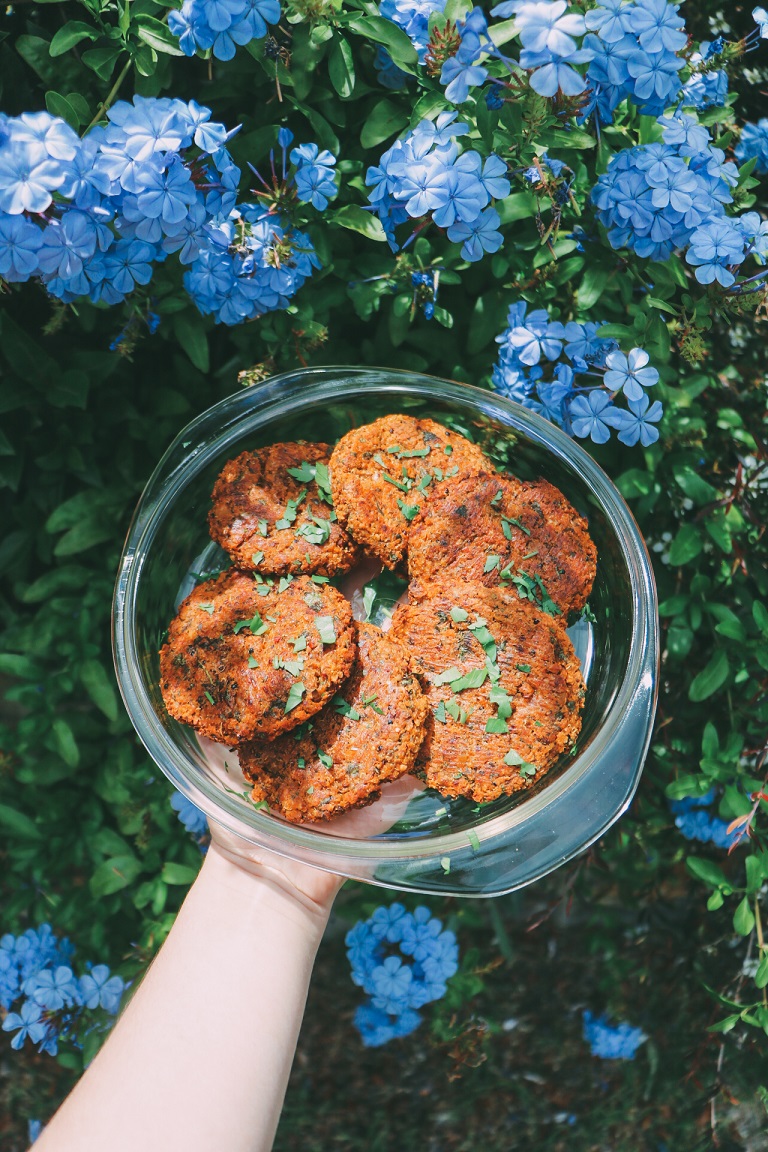 Nutritious plant-filled patties like these are mighty helpful to have on hand. They are great as an easy lunch (heat one up in the toaster to put on a sandwich or to add to a Buddha bowl), dinner-accompaniment or snacking sensation (spread it with cashew cheese or hummus and down the hatch it goes). While veggie burgers have got a bad wrap over the years, it really only comes down to building flavour and not majorly messing up the texture of the little buggers. So I'm happy to report these mega moreish, italian "pizza" flavoured burgers filled with legumes and nourishing pseudo-grains will quickly become a new favourite as well as menu planning stable. For an epic way to serve them, try having pasta sauce as the accompanying sauce with all your other burger fillings in an epic creation that will blow your taste-buds right off.
Makes 6-8 burgers.
Ingredients
1 onion, finely sliced
1 heaped tsp minced garlic
1/4 cup quinoa, uncooked
1 x 400g tin chickpeas, drained and rinsed
handful parsley
2 tbsp vegan parmesan (click here for recipe)
1 tbsp italian herbs
1/4 cup tomato pasta/pizza sauce (passata)
1/3 cup brown rice flour
olive oil (optional)
Method
Preheat your oven to 200C.
Saute your onion and garlic in a small non-stick pan until soft and slightly caramelised. Boil your kettle.
Cook the quinoa by rinsing it until the water runs mostly-clear, then covering it with the boiling water from the kettle and following the packet instructions to cook it to perfection. Once cooked, rinse & drain thoroughly until cooled and fluffy looking.
Add the sauteed onions and garlic as well as quinoa to a food processor along with the remaining ingredients (sans the brown rice flour and oil). Process until combined and still slightly chunky in consistency. Add the flour to the food processor and stir until combined.
Line a non-stick baking tray with baking paper and shape your patties into disks, then add them to the tray giving a little wiggle room between them. You should end up with about 6-8 patties that are about 8cm across. Brush with a little oil on the tops (optional) and cook in the preheated oven for 20 minutes.
Flip the burgers after the 20 minutes, brush with a little more oil (optional) and return to the oven for 10 more minutes. Enjoy straight away, or store in your fridge once cooled for another day.
---