"Chicken" Fajita Quinoa Salad // Vegan + GF + Oil Free + RSF
22 / 04 / 2018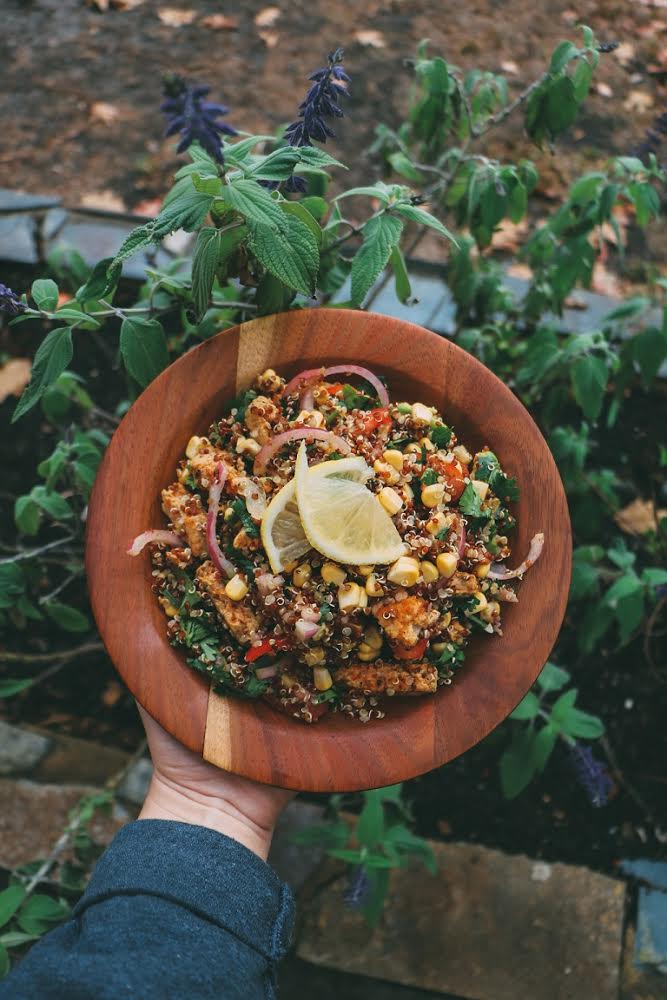 Mexican food is one of those cuisines which you really don't have to miss out on when going vegan. It's all about flavour (how it often is), and the main (I hate to use the word, but) "protein" is so interchangeable you'll really find yourself not missing the meat-laden version at all. This salad is so quick and easy to chuck together and is so packed full of flavour I think you'll love it. Swap the vegan "chicken" for firm tofu if you so desire and enjoy this in lunch boxes as easy lunches or as part of your meal prep for the week. It's so tasty, full of texture and satisfying flavours - it's on rotation 'round here. Enjoy honeybunches !!
Makes approx 4 serves.
Ingredients
1/2 cup quinoa (uncooked)
2 corn cobs, kernels removed
large handful cherry tomatoes, quartered
1 small red onion, finely sliced
large handful coriander, chopped
1 avocado, cubed
1 lemon, juiced
equivalent to 1 vegan "chicken" breast (I used two Quorn Vegan chicken breasts)
2 tbsp taco/fajita/Mexican spice mix
Method
Cook the quinoa according to the packet instructions, or until fluffy and cooked through. Drain if necessary and set aside to cool for a little while.
Meanwhile, grab a large bowl and add the corn kernels, tomatoes, onion, coriander, avocado and lemon juice, stirring until combined.
Cook your chicken breast in a non-stick pan until lightly brown and cooked through (with a little oil if desired). Once tender, break up roughly into strips/pieces and add your spice mix, stirring around for a couple of minutes until coated and fragrant.
Add the quinoa to the large bowl of salad ingredients, followed by the vegan "chicken". Toss to combine once more, season and add a tinsy drizzle of olive oil if you desire (optional). Chill and enjoy!!
---