Choc-Pecan Pumpkin Bread // Vegan + GF + Oil Free + RSF
24 / 01 / 2018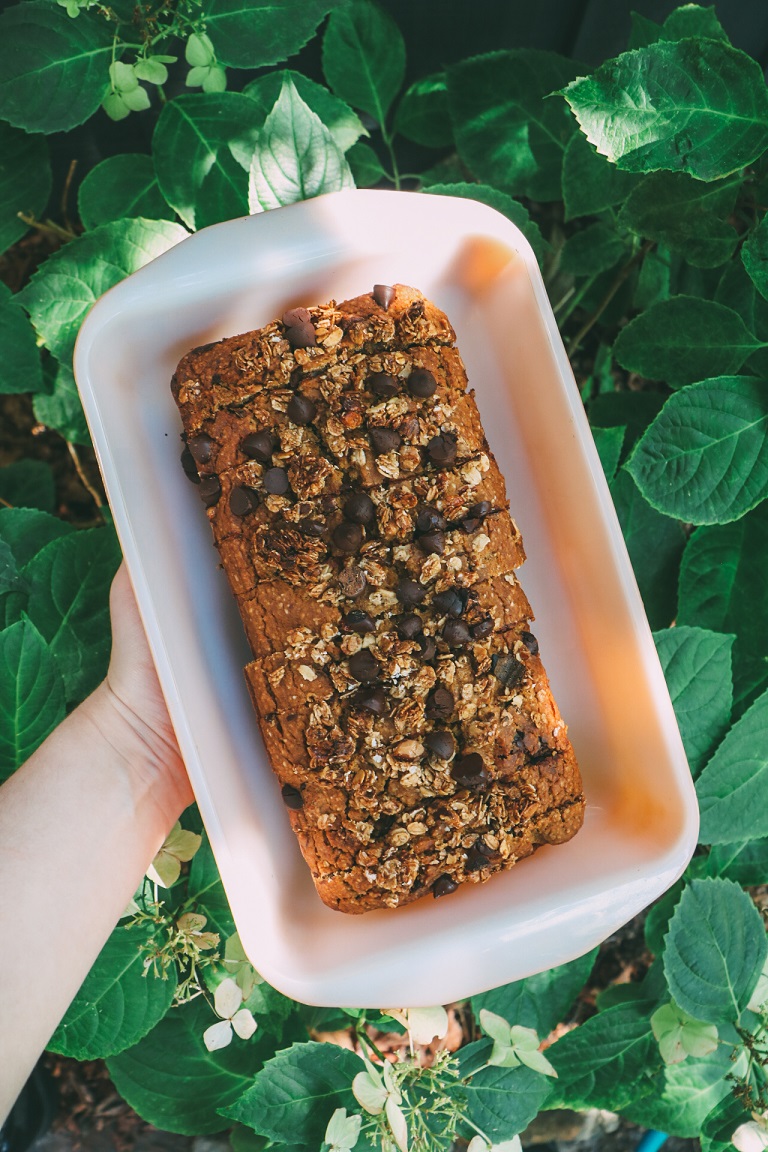 My one-bowl banana bread is the most popular video and recipe I've put out and for good reason. It's super easy to make, full of goodness and doesn't taste odd at all, considering the plethora of non-traditional ingredients it contains. This bread is a spin on that recipe, and is mighty delicious if I do say so myself. It's technically summer at the moment here in Australia, however we've had a few "cooler" days, and I've very much enjoyed this cosy pumpkin-y bread, toasted then lathered in almond butter as a way to start my day, fill up the morning, afternoon and evening with. Anytime is an appropriate time for this bread honeybunches - and I highly recommend it to be on your list for your next therapeutic baking session.
Makes 1 loaf.
Ingredients
1 cup pumpkin puree (or boiled pumpkin chunks, mashed until smooth)
1 tsp apple cider vinegar
2 tbsp maple syrup
1 tbsp almond butter
1/2 cup coconut sugar
1 splosh vanilla
1 cup plant mylk
1/2 cup plain flour (GF if required)
1/2 cup buckwheat flour
1 cup oat flour
2 tsp baking powder
pinch salt
2 handful choc chips
2 handfuls pecans, chopped
granola and extra choc chips to top (optional)
Method
Preheat the oven to 180C (on a slow oven setting if it has it, otherwise the fan forced/a regular setting will work). Grease and line a loaf tin (size is flexible, you will just end up with a taller or shorter and longer cake).
In a blender of some kind (food processor would even work) or by hand, combine the first seven ingredients (down to and including the plant mylk) until smooth.
In a large bowl, combine all the flours and salt until smooth. Add the wet mixture to the dry and gently stir to combine. Fold in the choc chips and pecans.
Transfer the mixture to the prepared loaf tin and top with some granola and choc chips if you so desire. Cook in the preheated oven for 45-65 minutes (it will depend on your oven and cake tin size) or until a skewer inserted comes out mostly clean with only a few moist crumbs stuck to it. Leave to cool a little before slicing and devouring!
---