Cheesy Sweet Potato Fries // Vegan + GF
25 / 01 / 2016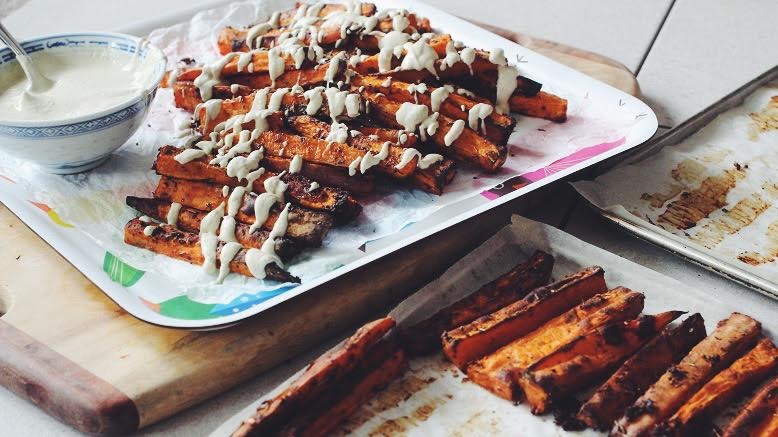 I've never ever had potato fries with gravy. To be honest it looks ridiculously unappealing. The lack of colour and general texture of 'moosh' kind of grosses me out. However I have totally created something here that I will admit looks like that traditional western world fast food meal. Yet I promise you this is so totally full of goodness that you could eat it everyday. I love this over a bed of spinach with some green juice on the side for lunch. Meer perfection! You'll be surprised how easily a whole punnet of spinach (no joke) can be gobbled up with some sweet potato paired with it. A great way to eat greens, if you're a little squeamish. On another note, I am pretty proud of these fries, they have the BESTEST of flavours to them. Dulse flakes can be found from your health food store and last forever. They are small flakes of seaweed, but if that puts you off forget it, because they don't add any ocean-ey flavour to these, they just take the amazing flavour combo to the next level!
Serves 4 as a side or 2 as a meal.
Ingredients:
3 medium sweet potatoes
1 tbsp olive oil
1 tbsp dried mixed herbs
2 tsp paprika
2 tsp garlic powder
1 tsp onion flakes/powder
salt and pepper
2 tsp dulse flakes
1 cup soaked and drained cashews (3 hours minimum)
juice of lemon or lime
1/2 cup water
1/4 tsp salt
1 tsp apple cider vinegar
1 tbsp nutritional yeast
2 tsp garlic powder
1 tbsp dried mixed herbs
cracked pepper to taste
Method:
Preheat the oven to 200C.
Wash the potatoes and then cut into wedges. Long and thin is how I like them but up to you. Place in a large bowl and add the seasonings down to the dulse flakes. Toss with your hands to coat them. Lay on lined trays with baking paper. Bake for 40 minutes or until lightly brown.
To make the cheese sauce, combine the remaining ingredients in a high power blender until smooth. Taste and adjust flavours accordingly if desired.
To serve, just drizzle, dip or dunk the chips in the sauce. Devour immediately!
---