Chai Spiced Almond Biscuits // Vegan + GF + Sugar & Oil Free
17 / 02 / 2016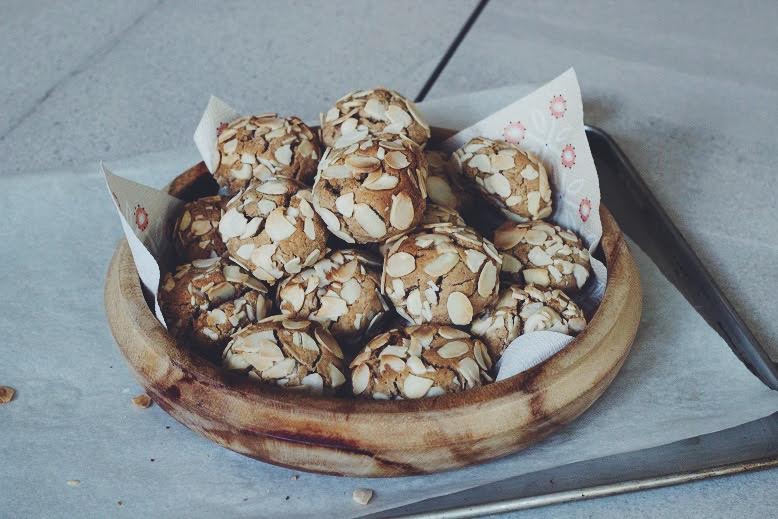 Okay so I've totally cracked the code!! That is the refined sugar and butter free biscuit! Or cookie, depending on where you are from. These are incredibly moreish and make you really second guess the ingredients you made these with. Weird, but amazing! Again our chai spice flavour comes to visit and doesn't disappoint. I would say that this recipe will absolutely please any 'older-generation-tea-loving' folks. It's all about hitting that vegan weak spot in your family and friends and showing them that there is absolutely the possibility of turning every thing they currently enjoy, vegan. Making them from plants, ensuring they cause no harm in the making.
Makes 16+
Ingredients
1/2 cup maple syrup
1/2 cup apple puree
1/2 cup cashew butter (almond also works)
2 tsp vanilla
1 tbsp black strap molasses
1 1/2 cups GF flour
1 tsp baking soda
1/4 cup almond meal
1 tsp cinnamon
1/4 cardamon
1/4 cloves
1/4 nutmeg
splash of plant mylk
slithered almonds
Method
Preheat the oven to 190C fan-forced.
In a large bowl, combine the first 5 ingredients with a whisk until smooth.
Add the next 7 ingredients and combine until a dough forms with a spatula. You may need to use a splash of plant mylk to bring it all together.
Roll out 2 tbsp's worth of the dough in your palms and then coat in the slithered almonds, until an almost mosaic effect is created. Place on a baking tray lined with non stick baking paper. Repeat until all the dough has been used up.
Bake in the pre-heated oven for 15-20 minutes until golden and the almonds are lightly toasted. Enjoy warm or at room temperature. These will keep for 7 days, if they last that long.
---