Carrot Cake // Vegan + GF
23 / 01 / 2019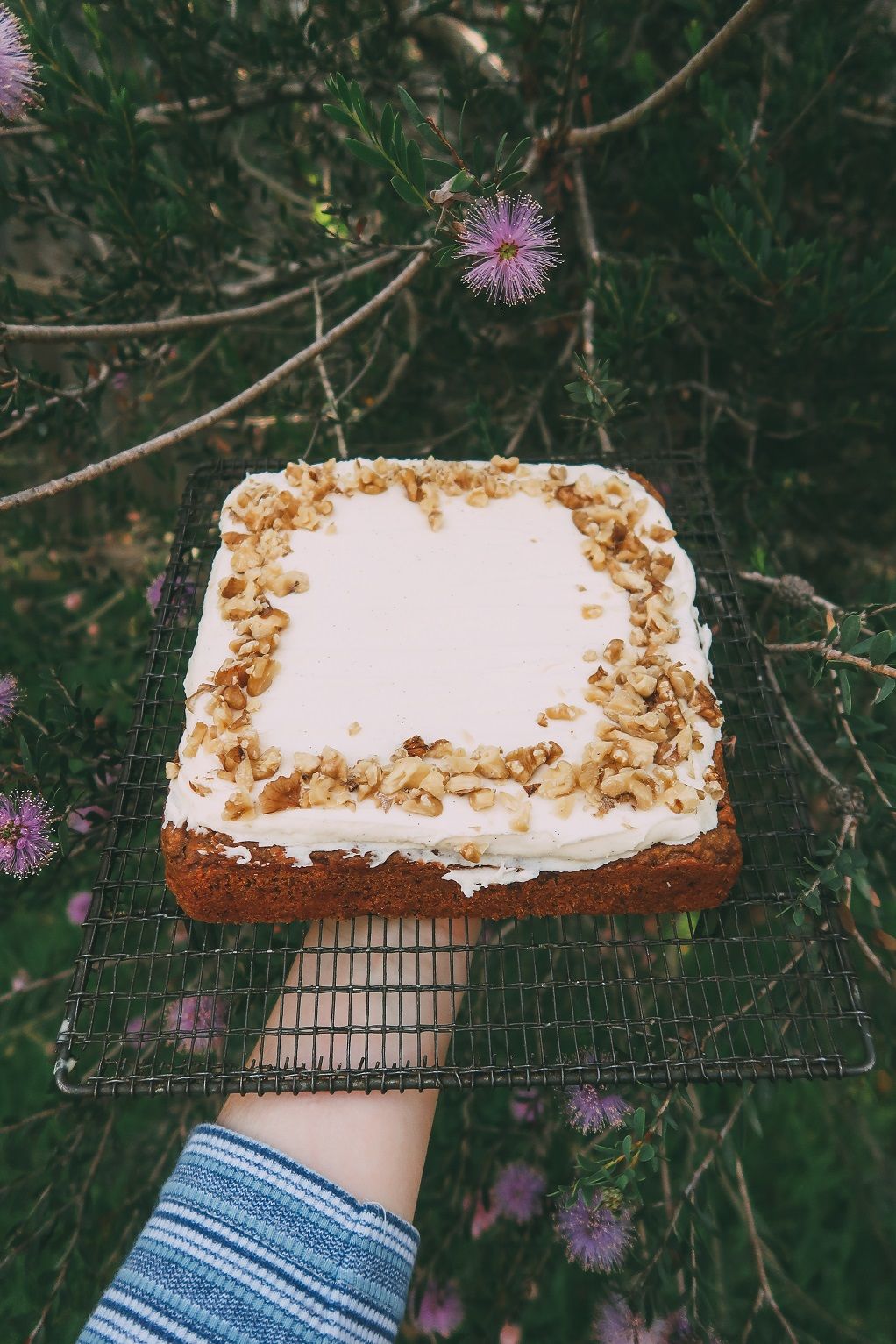 One birthday I had in middle school, my birthday cake was a carrot cake choc-a-block with walnuts in it, and while I didn't show it - I wasn't all that choofed with the relatively-wholesome cake. Safe to say, my taste-buds and attitude to carrot cake has thankfully made a full recovery since then, and now I do love a lovely carrot cake, complete with a lemony icing, and yes, lots of walnuts. This is a denser, moister cake then most so keep that in mind, and also you can easily swap the GF flour for regular if you wish. Enjoy!
Makes 1 x 20cm square cake
This is a recipe from one of my early experiments in vegan AND gluten-free baking. It's still a good cake, but it's a little dry and I've improved upon my  techniques since publishing. I leave this recipe up though for those who've made it and loved it, as well as to show my progession in this department over time.
-> My favourite carrot cake recipe of mine, is in my first cookbook. 'The HBOT Cookbook' found through the link in the side bar.
Ingredients
1/2 cup apple puree
1/4 cup grapeseed oil
2 tbsp nut butter
1 tsp vanilla
2 carrots, finely grated
3/4 cup coconut sugar
pinch of salt
1/2 cup oat flour (or oats blended until fine), GF if necessary
1/2 cup buckwheat flour
2 tsp baking powder
1 tsp cinnamon
pinch of nutmeg
3/4 GF plain flour (or regular plain flour)
2 large handfuls walnuts, chopped
Lemony Icing
1/3 cup vegan butter
juice of 1/2 a lemon
1 tsp vanilla (paste, extract etc.)
1 1/2 cups icing sugar
Method
Preheat your oven to 180C (not fan-forced if you have the option, otherwise the fan setting will still work, just not as well).
In a large bowl, combine the first seven ingredients (down to and including the salt) with a whisk until smooth and combined (with carrot strands in it though of course).
Add the remaining ingredients to the bowl (sans the walnuts) and whisk gently to combine.
Grease and line a 20cm square tin (or similar) and add in the batter.
Bake in the pre-heated oven for 1 hour. If the skewer does not come out clean and the cake is not quite firm to touch, give it another 10 minutes. Set aside to cool at room tempurature.
Meanwhile make your icing by mixing all the icing ingredients together with an elctric whisk until smooth. You can cream the butter first with the vanilla and lemon, but I've found it doesn't make much difference either way. Beat for a couple of minutes so the icing lightens and fluffs up a tad more.
Ice the cooled cake with the icing and enjoy!
---