Butterbeer Pie // Vegan + GF + Raw + RSF
10 / 12 / 2016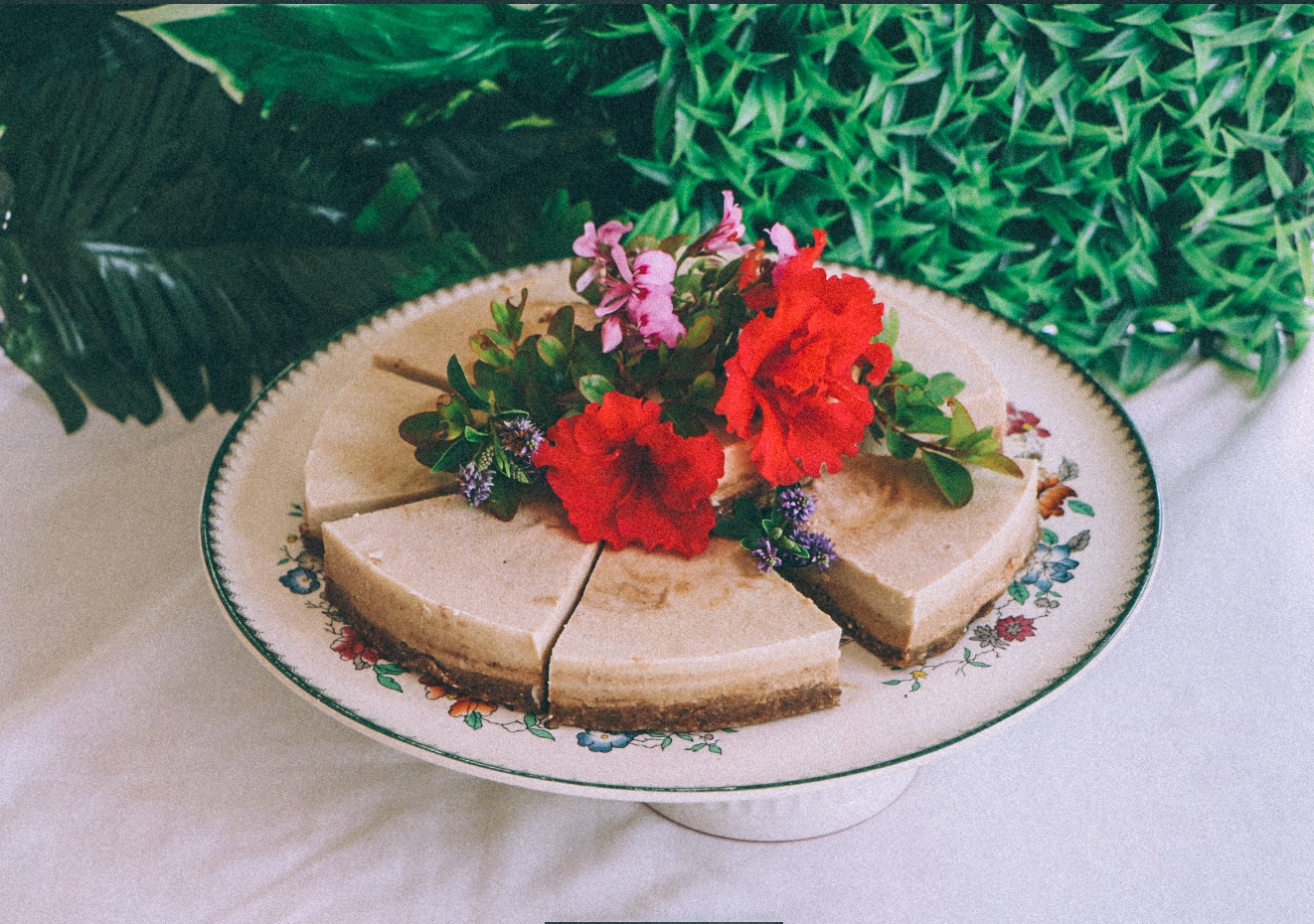 Oh my goody goodness, am I dreaming?!! Did this magical creation really work out this well? I believe so honeybunches, and it's pretty dang achievable too. It's really only dumping different ingredients into appliances and hitting "go". Even toddlers can do that, so I KNOW you can too. Don't be intimidated by the long list of ingredients, they're pretty stock standard vegan baking ingredients.
I tried a frozen butterbeer while at Harry Potter world, Orlando Studios back in 2012, and my goodness was it special. While it didn't quite replicate a "warm hug" like the book suggests because it was the frozen variety, it did hit the spot and evoke a wave of nostalgia and good memories in the hot Florida air. From my memory, I've recreated it here...in pie form. Why pie form you may ask? Well, it' nice to put a spin on certain flavours and use them in unexpected ways. After all, there already are a number of "vegan" butterbeer recipes floating around the internet. So enjoy this crazy creation folks. It's ridiculously delicious!!
Ingredients
BASE
8 medjool dates, pitted
1/2 cup pecans
1/2 cup cashews
2 tbsp maple syrup
2 tbsp desiccated coconut
4 tbsp teff/buckwheat/oat flour
1/2 tsp cinnamon
pinch of nutmeg
pinch of cloves
BUTTERBEER LAYER
1 cup cashews (soaked for 3 hours minimum, or 30 mins in hot water)
10 medjool dates, pitted
1 tsp apple cider vinegar (or lemon juice)
1/2 cup coconut milk
1 tbsp coconut oil
2 tbsp nut butter
2 tbsp maple syrup
1/2 tsp cinnamon
pinch of nutmeg
pinch of cloves
ICE CREAM LAYER
1/2 cup coconut mylk
1/2 cup cashews (soaked for 3 hours minimum, or 30 mins in hot water)
3 tbsp maple syrup
1 tbsp coconut oil
1 frozen banana
1 tsp vanilla
Method
To constructs this pie we make a layer at a time then return the pie to the freezer. So to start with line a 22cm (or similar) spring-form cake tin with grease proof paper on the base.
To make the base layer, blend all the base ingredients in a food processor until smooth and dough-like. Press into the tin, and smooth over with wet fingers, or a wet bottom of a glass/measuring cup (to ensure a flat top). Place in the freezer.
To make the butterbeer layer, combine all these ingredients in a high powered blender. You could also use a food processor, although the consistency won't we as smooth. Once smooth and rich is colour, pour onto the base, and smooth over the top. If you wish to make a swirl pattern in the top of the pie, remove a couple of tbsp of the filling for later. Return to the freezer.
Rinse out your blender and now add all the ice cream layer ingredients in it, blending until smooth. You may need to scrape down the side a couple of times. Retrieve the pie from the freezer one last time, and add the final layer.
For a swirl pattern, dollop little amounts of the reserved butterbeer layer over the ice cream layer. Then take a spoon/skewer/chopstick and swirl to your hearts content.
Return to the freezer one last time, for 6 hours minimum. Remove and serve when desired. The pie can live in the freezer for 1 week.
---