Best-Ever Vegan Lasagne Recipe // Oil Free + GF + RSF
19 / 04 / 2017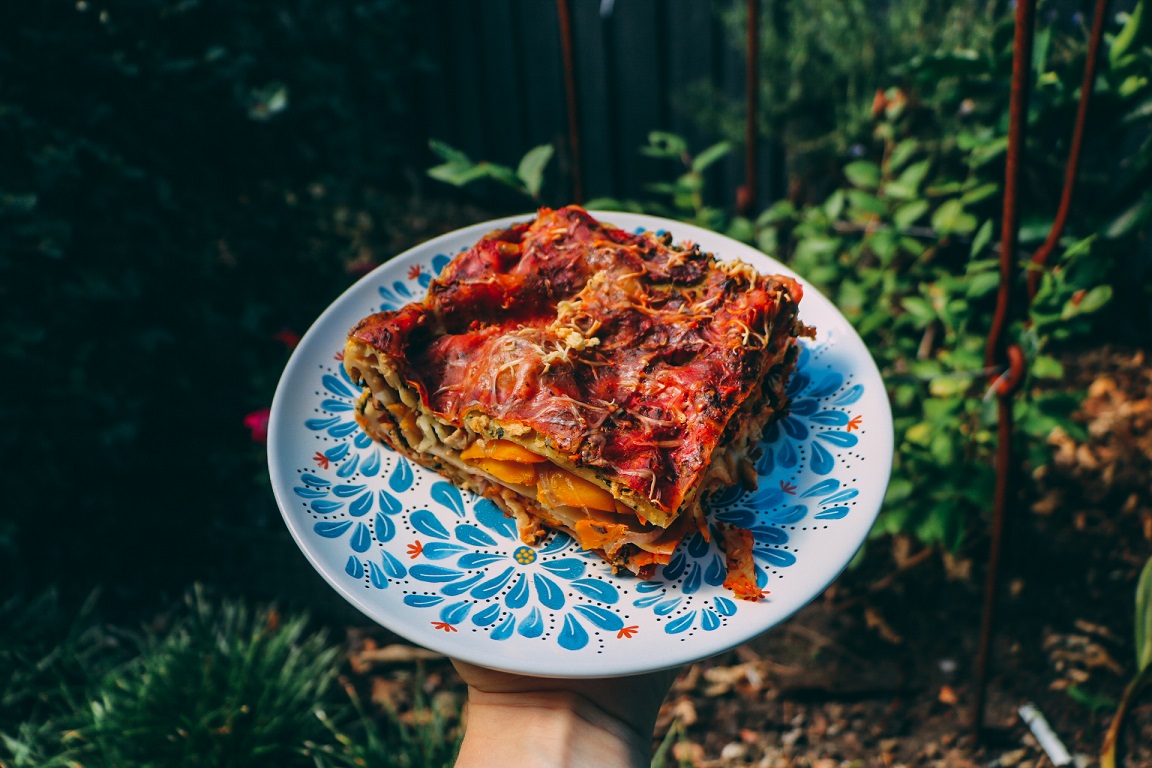 It's finally here, the HBOT best-ever vegan lasagne - hooray!! Lasagne is just a necessary recipe to have on hand to make at least once a month I reckon. It's deceivingly easy when you understand what you're doing (like all recipes) and is so wonderfully all in one, that you just feel complete eating it. This version is GF and with an oil free suggestion, but I promise you won't even realise what you're missing. Lasagne is so forgiving - so I promise it will only be a pleasant experience making this goddess. I've tested it on many family and friends and the only "comment" was that it was "filling" - and that ad' be because of the fiber haha. How reassuring I say!! There's plenty of cheesey-goodness in this and the sauce really does a fabulous job at being a quick and easy bechamel, that tastes even better in my opinion. I hope you make it for yourself or your family and have a wonderful time doing so :)
Serves 6
Ingredients
2 medium carrots
2 medium zucchini
6 button mushrooms
1 tsp of garlic powder (or 2 tsp fresh minced)
500 frozen spinach
1 cup TVP mince (textured soy protein)
300g medium tofu
3 tbsp nutritional yeast
1 tbsp mixed herbs
1 tbsp dijon mustard
salt & pepper
1 lemon, juice only
375g GF lasagne sheets
700g passata
1 x 400g crushed/chopped tomatoes
100g vegan cheese shreds, or just grate your own - optional (alternatively for an oil free version use vegan Parmesan
Method
Pre-heat your oven to 200C, fan-forced.
Firstly thinly slice your carrots, zucchini and mushrooms either by hand, with a julienne or in a food processor with the appropriate attachment. Alternatively you could finely chop all the veggies by hand or in the food processor - this would also work.
In a large fry-pan or non-stick pot, add your thinly sliced veggies with a splash of water and the garlic, water sauteing until soft (up to 15 minutes). Set aside when soft, yet not mushie.
Meanwhile prepare your spinach and TVP, by boiling the kettle, grabbing two separate bowls and adding the spinach into one and the TVP into another. Cover both with enough boiling water to just cover them. Once the spinach is defrosted, drain and squeeze out all the water with the back of spoon in a fine sieve. The TVP will absorb all the water, so no need to drain that. Set these two aside until needed.
Make the cheese now, by combining the tofu, noosh, herbs, mustard, salt & pepper and lemon in a food processor or blender of choice. When smooth and creamy, stop blending and set aside until needed.
Time to build your lasagne!! Start with some passata or chopped tomatoes and cover the base to prevent your sheets from sticking. See how I build mine up here, but really you can't go wrong. I would recommend saving 2/3 of the cheesey sauce for the top, and finish by sprinkling over the cheese shreds if using, or vegan Parmesan.
Cook in the pre-heated oven for 30 minutes, then switch to the grill setting and cook for 10 minutes more to crispy up the top of your lasagne.
For best results (in the serving department), let it sit for 15 minutes - but it's just as good straight away. It keeps well and tastes even better the next day!! Enjoy!
---