Best-Ever Basic Vegan Pasta // Vegan + GF + Oil Free
17 / 04 / 2016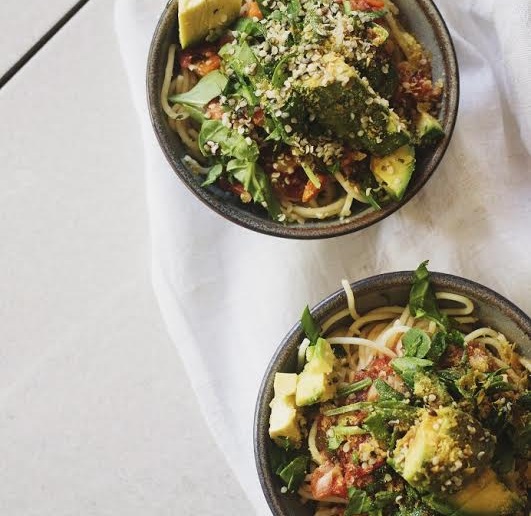 While this recipe is so dead easy that you hardly need a recipe, it's just so good that you deserve to have it in your life. As it not only tantelises your tastes buds, but also uses up odd veg in your fridge, it's a ripper of a meal that you can easily remember and use when travelling or have no time mid-week. Of course you don't have to use spaghetti, nor GF pasta, play around with it and enjoy the freedom that the recipe allows. In my opinion the toppings are the best bit. If you've never had avocado on your pasta then you are missing out my friend. Oh, and don't even get me started on nutritional yeast with coconut aminos.
Serves 2
Ingredients
300g GF pasta (spaghetti or other)
1 jar tomato pasta sauce
1 cup odd veggies (e.g. mushrooms, carrots, onions, zucchini, broccoli), finely diced
nutritional yeast
coconut aminos
1/2 avocado, cubed
hemp seeds
handful of spinach, shredded
Method
Cook the pasta according to the packet instructions.
Meanwhile chop your veggies into a fine dice. Combine with the pasta sauce in a small saucepan (sauteing first if short for time), and heat through until the veggies are tender and the sauce is bubbling.
To serve place the pasta in two bowls, topped by the sauce and then the toppings. Then gobble up, because it's simply delicious!
---