Berry & Oat Breakfast Muffins // Vegan + GF + Oil Free + Refined Sugar Free
14 / 04 / 2016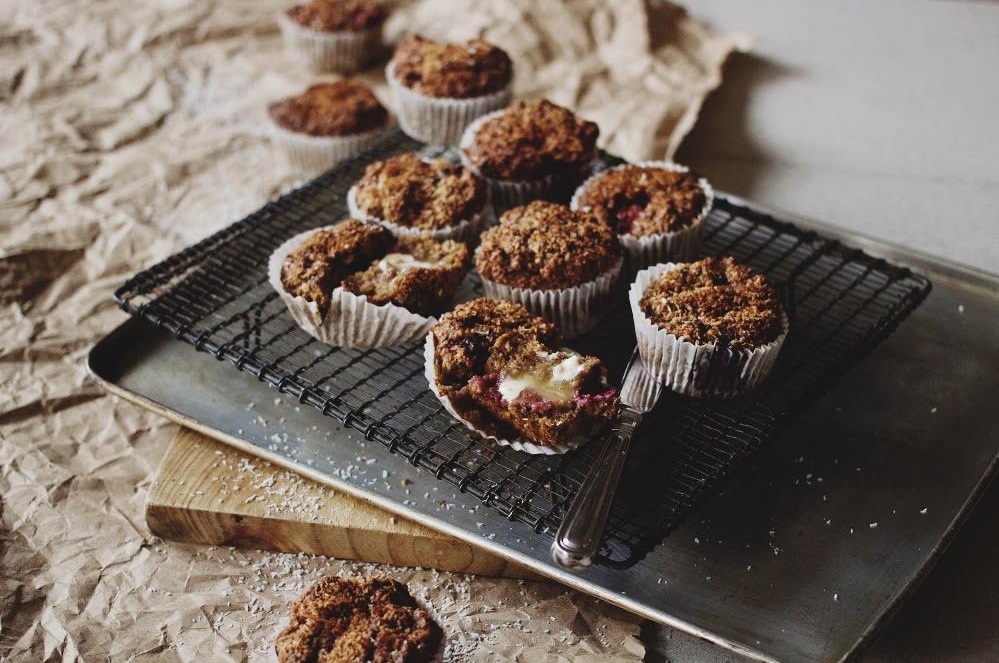 Muffins are a funny thing. Never really so amazing that one drools at the sight of them, but tasty none the less. They are very much a perfectly acceptable "childhood-food", yet when one is older, they are labeled as fattening, treat-food and ridiculously decadent. Well with this recipe we are breaking a few of those misconceptions. Firstly these ARE good for you. They are free from refined ingredients and do not leave that oily sticky residue on your fingers once eaten. Secondly, these are more than an acceptable breakfast food - basically oatmeal in a cup, and lastly they taste light and satisfying, thanks to the fibrous oats and juicy berries. I know this blurb is hardly read by anyone, but if you are reading this then I assure that you'll be glad to add this muffin recipe to your repertoire.
This recipe makes 12 muffins.
Ingredients
1/2 cup plant mylk
1 tsp apple cider vinegar
1 1/2 tsp baking soda
1 cup apple puree
1 tsp vanilla
2 flax eggs (2 tbsp ground flax mixed with 6 tbsp water)
1/2 cup buckwheat flour
1 cup quick oats
1/4 cup desiccated coconut (plus more to sprinkle)
1/4 cup almond meal
3/4 cup coconut sugar (plus more to sprinkle)
1 cup frozen berries
Method
Preheat the oven to 180C fan forced.
In a large bowl whisk together the mylk and vinegar, letting it split and resemble buttermilk. This will take approx 5 minutes. Once the time is up, add the baking soda and whisk until smooth. Add the puree, vanilla and flax eggs and whisk again.
Add the remaining ingredients (minus the berries) and gently stir until combined. Try not to over mix. Once combined, stir in the berries. Again, don't over mix.
Grab a muffin tin tray, and line with patty papers. Divide the mixture between the muffin holes and smooth over the tops.
Sprinkle the muffins with extra coconut and sugar if desired. This creates a crunchy top that is absolutely delicious. Bake for 20-25 minutes in the pre-heated oven, and remove to slightly cool once cooked.
Serve by themselves, or with a spread of vegan butter. Yum!
---