Plant-Based Banana Cake // Vegan
09 / 05 / 2016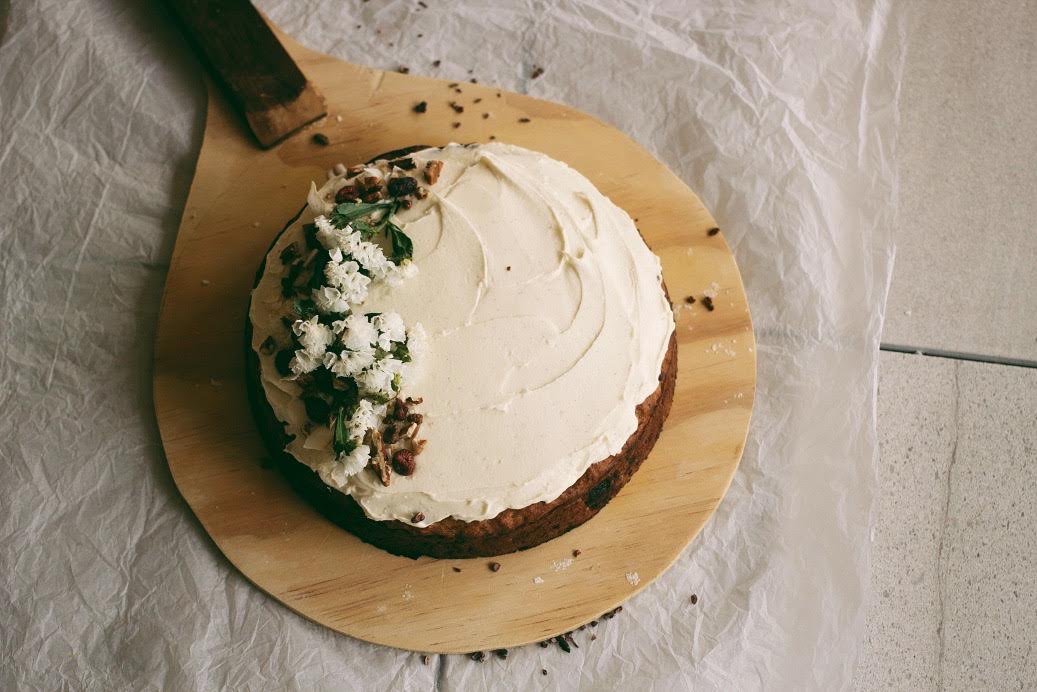 Bananas are great in their raw, un-altered state right? But truth be told they are just as delicious when left to go (slightly over) ripe, covered with brown spots and divots, then mashed until they reach a puree, stirred lovingly into a batter which is baked with love, and then topped with a tangy lemony icing that makes anyone squeal with joy. It's that somewhat "artificial" banana taste that emerges when cooked that we often doubt, but can still be good for you when mixed with some plant based ingredients. Granted this isn't the most spotlessly clean recipe, I don't think it needs to be. It makes me think of banan-ery flavours my grandma would once make and if it's still making me think of that with a completely vegan ingredients list then I'm happy. I'm even happier when I see little flecks of vanilla in the icing, so use a paste and enjoy being all fan-say when serving it up to your family and friends. Oh and that's the thing, it makes a rather large cake so do share it :D
Serves 8-12
Ingredients
1 1/2 cups plain flour
1/2 cup almond meal
1/3 cup buckwheat flour
3/4 cup coconut sugar
2 1/2 tsp baking powder
1/2 tsp baking soda
1 tsp cinnamon
pinch of salt
3 ripe bananas, mashed
1/2 cup coconut oil, melted
1/2 cup maple syrup
1 tsp vanilla
2 flax eggs
1/2 cup mylk
2 tbsp nuttelex
1 1/2 cups icing sugar
1/2 lemon, juiced
1 tsp vanilla
Method
Preheat the oven to 170C fan-forced (or whatever cake setting your oven provides).
In a medium bowl combine the first eight ingredients (down to the salt), until no lumps remain and all the raising agents are thoroughly incorporated.
In a separate large bowl, combine the next six ingredients (down to the mylk), ensuring that it is as smooth as possible. But lumps of banana will remain.
Pour the dry ingredients into the wet and fold together until just combined. Don't over mix, and add another splash of plant mylk if required to help bring it together.
Prepare a 22-24cm spring form pan, by greasing the sides with additional coconut oil/vegan butter and lining the bottom with grease proof paper. Pour in the batter and smooth over the top with the back of a spoon/spatula.
Bake for 30-40 minutes, until a skewer inserted comes out clean or with a few moist crumbs. Let cool completely.
To prepare the icing, beat the remaining four ingredients with beaters. It should become a slightly paler shade of yellow/white and be absolutely delicious.
Ice the cake once cooled and enjoy!! Feel free to decorate with flowers, or some sprinkle bits and bobs (berries, nuts, buckwheat, chocolate, coconut etc.). Enjoy!
---