Balsamic Roast Vegetable Pasta // Vegan + GF + Oil Free
07 / 07 / 2016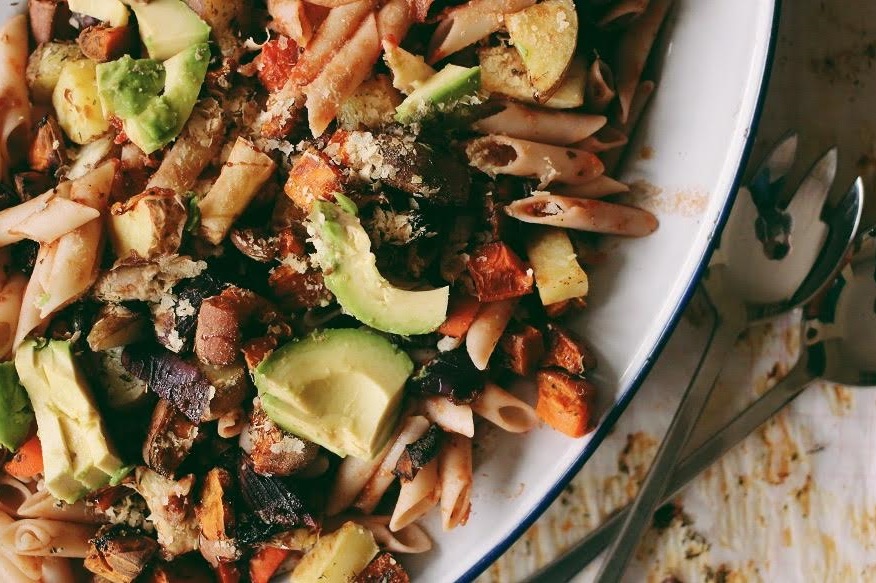 I give a smidgen of credit to Jamie Oliver for this recipe. Yonks ago (pre-vegan days) I used to be a major fan of his and embarrassingly have six or so of his cookbooks. Anyways when I was really young I made a pasta dish of his and it was full of beef and other nasties, but what it did have was balsamic vinegar in the pasta sauce. My mind was blown. Or should I re-phrase, my 9 year old mind was blown. It tasted SO GOOD!! The vinegary acidity was spot on and it just lifted the dish from yay to way up. Since putting coconut aminos on my vegan pasta dishes recently, I've been enjoying the subtle sweetness of it, so with this dish I've combined the goodness of both and used caramelised balsamic vinegar. This stuff is pretty easy to get your hands on - but if you can't find it, simply use the substitution mentioned below. Enjoy!!
Serves 2-4
Ingredients
1 medium sweet potato
2 small/medium potatoes
1 red onion
1 carrot
mixed herbs (2 tbsp approx)
250g brown rice pasta penne (or pasta of choice)
1 cup tomato pasta sauce
2 tbsp caramelised balsamic vinegar + extra for garnish (or 1 tsbp of normal balsamic with 1 tbsp maple syrup)
nutritional yeast for serving
avocado for serving
Method
Pre-heat your oven to 200C fan-forced.
Wash and cut up your root vegetables (first 4 ingredients) into bite sized pieces.
Line a baking tray and spread out the veggies on it - giving them some personal space. Sprinkle with the mixed herbs and bake in the pre-heated oven for 30-40 minutes or until tender.
Meanwhile cook your pasta according to packet instructions. Drain and rinse when al dente. Pour the pasta back in the pot your cooked it in and then add the pasta sauce and vinegar, stirring to combine. At this point you could warm through the pasta sauce on the stove - yet I find this is somewhat unnecessary as the heat from the pasta pot and the cooked pasta does the job. Plus the pasta can become mush if you fuss over it too much.
Serve by placing the pasta in your serving dish with the roast vegetables on top, sprinkling with more vinegar, nutritional yeast and avocado as desired.
---