You don't need a juicer // Life hack
04 / 02 / 2016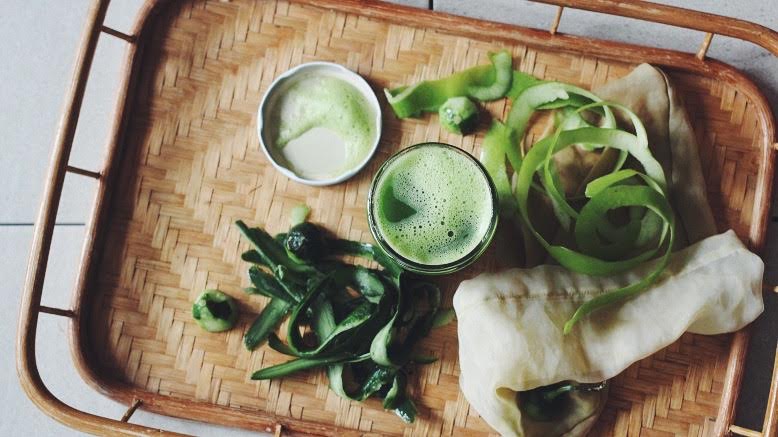 Hey pals! Whether you are on board the juicing train or just like to hop on for a stop or two - that's all GOOD. I'm just here to tell you that there is a hella awesome way to make your own juice at home that can taste exactly like that sold at 'Pressed Juices'. Aka - it takes real fancy, yet can be done SUPER easily, right in the comfort of your own home. In fact you don't even need a juicer. Let's face it, they are expensive, bulky, and usually very annoying to clean. They definitely don't shout 'use me'. Yet you know I'm all about finding sneaky short cuts, that make healthy living approachable and fun, and this method of juicing is just that. Got a blender of some kind? Perfect, because that and a nut mylk bag is all you'll need. You can find one of these at your local health food store. Alternatively you can use a cheese cloth from a fabric store. TOO EASY I SAY! It's ridiculously good fun - you just blend the vegetables and fruit in your blender, then pour it in the bag and squeeze. Oh yeah! What's left is just the fiber which can be composted. Here are some things to keep in mind before juicing,
peel non-organic fruit to reduce the nasty pesticides and waxy coatings that you put in your bod.
don't blend the seeds of fruits that you wouldn't eat (so watermelon and cucumber are okay).
for juices with mainly vegetables, pour some water in with it to help it along.
don't put the peel of citrus in your blender.
drink soon after squeezing (within 15 minutes). alternatively place in an airtight bottle or container and place in the fridge to consume within 24 hrs to maximize nutritional value.
Even if you are a juice skeptic, just know that it's a perfect way to give an extra boost of nutrients to your bod within 15 minutes of drinking, and that's pretty cool!
Here are a few combinations to try out...
#1
watermelon
apple
mint
lime
#2
carrot
pear
spinach
apple
cucumber
#3
#4
spinach
apple
mint
cucumber
lemon
---